DECORATIVE WINDOW-BARS
If you like small windowpanes or the atmosphere of wooden houses from the turn of the last century, bigger window surfaces can be made to look smaller with decorative window-bars. The decorative window-bars are either integrated into the glazed unit or are fixed to the outer or inner sides of the window. The third option is one where the glass is actually divided into panes, which is usually used for halving terrace doors. 
Decorative and dividing window-bars are usually installed in the same colour as the window itself.
Possible options: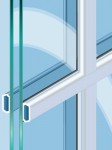 decorative adherent window-bars (20 mm, 25 mm, 45 mm ja 70 mm).
dividing window-bars integrated into the glazed unit (26 mm, white and brown).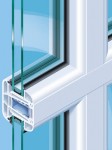 dividing window-bars that form smaller panes (68 mm, 84 mm ja 98 mm).